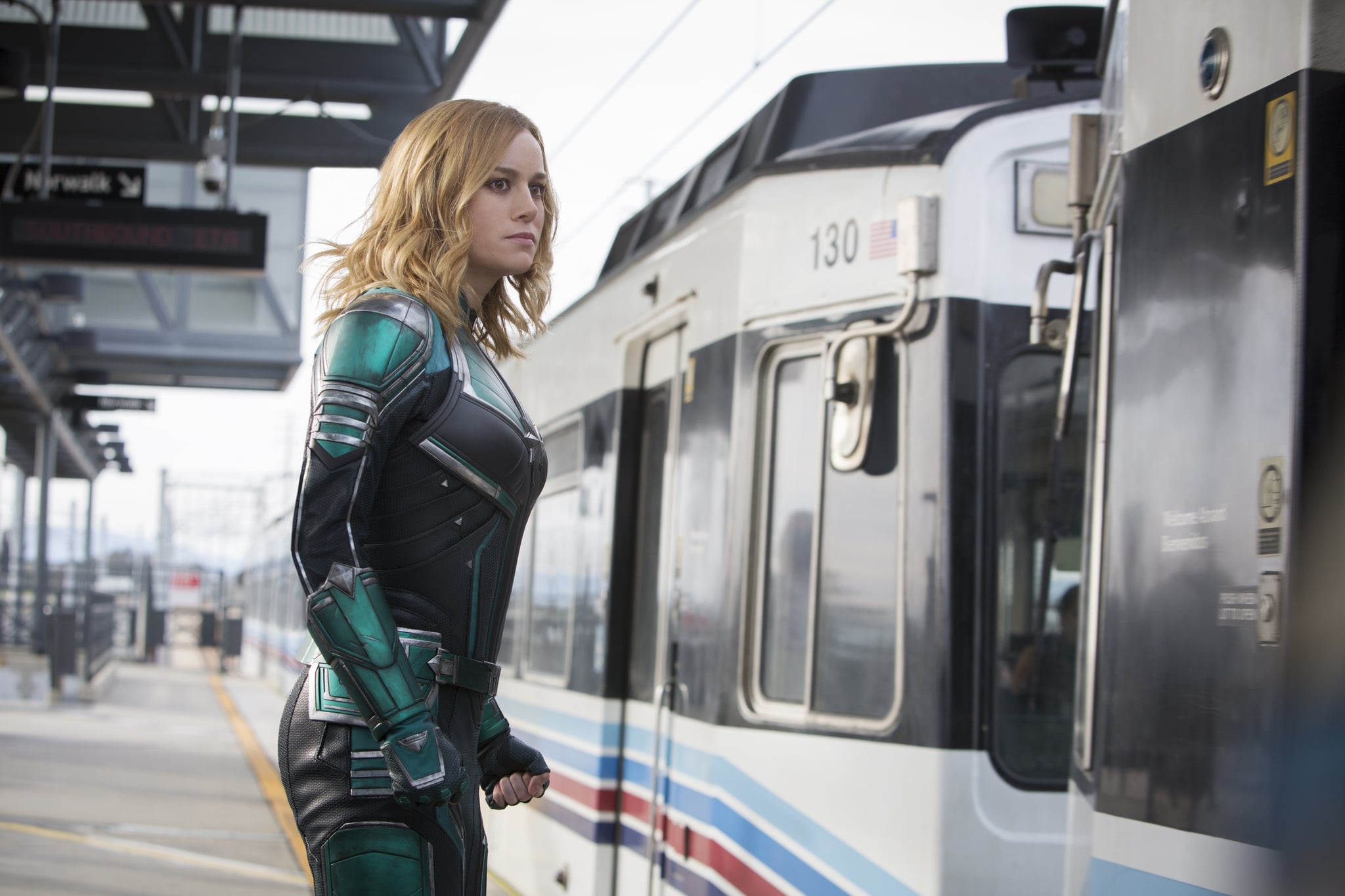 With the simple change of the calendar, Marvel fans have turned their eyes on the studio's next big release. Enter Captain Marvel, the first female-led Marvel film that also happens to have the inimitable Brie Larson at the helm. Captain Marvel is shaping up to be a pretty big deal in the universe, and not just because of its feminist flair. This is the last film before the hotly anticipated Avengers: Endgame, in which her incredible powers will play a pivotal role in defeating Thanos. Whew, there's clearly a lot to look forward to! But, of course, before we get to the pièce de résistance, we have the Captain Marvel's standalone film.
Given the fact that Captain Marvel is an entirely new addition to the universe, and the project has new directors (Ryan Fleck and Anna Boden) that haven't made a Marvel film before, it's hard to say what the vibe of the film will be. Luckily for you, POPSUGAR was able to visit the set in late Summer of 2018, with a small group of other journalists, so we do have a few tidbits that will give you an idea of what you're in for.
During our day on set, we nabbed some time with the film's executive producer, Jonathan Schwartz. One of the big questions he answered pertained to how much they'd lean into the '90s setting. After all, fans have already clocked the legendary Blockbuster store in the first official trailer. As it turns out, the creative minds behind the film are very much taking a page from your quintessential '90s handbook. When it comes to that Blockbuster scene, we learned the crew actually built out an entire strip mall set, meaning we'll likely see other throwback stores. (Sam Goody? Where you at?) And all that fun is certainly going to leak into the soundtrack as well.
Schwartz confirmed that the soundtrack will be jam-packed with '90s hits, but don't expect a Guardians of the Galaxy kind of gimmick. "I mean, there's not a '90s mix CD that she carries with her through the movie, like Guardians might have," he said. "But I think part of the fun of the movie is all the '90s music cues and having fun with the '90s period element."
But the fun doesn't stop there. In fact, it seems the style of the film will read like the great action films of the '90s. "It's a '90s action movie," Schwartz said with a smile. "Like Robocop or Terminator II or Total Recall. It's a high concept '90s action thriller." Wow, it sounds like Captain Marvel will really set itself apart as a unique (and fun!) Marvel movie in the universe. We're ready for it.