It always looks inevitable in retrospect.
Why wouldn't U.S. stocks rally, surging to the biggest weekly gain in a year, amid earnings euphoria like this? With no hint of fatigue, the S&P 500 Index spent the holiday-shortened week rolling past 2,700, while the Dow Jones Industrial Average jumped over 25,000. Ninety-eight companies in the Nasdaq 100 rose.
It happened as Wall Street stock analysts were jacking up profit forecasts. So fast that a measure tracking the frequency of upward earnings revisions to downward hit the highest level since 2011. The result was the best start to a year for the S&P 500 since 1999.
"This doesn't mean the index will go straight up from here, but the economic fundamentals are strong enough to support the stocks," said Phil Orlando, chief equity strategist at Federated Investors. "Corporate earnings growth has been solid in the last nine months, we expect another double-digits in the fourth quarter. The party is going to continue."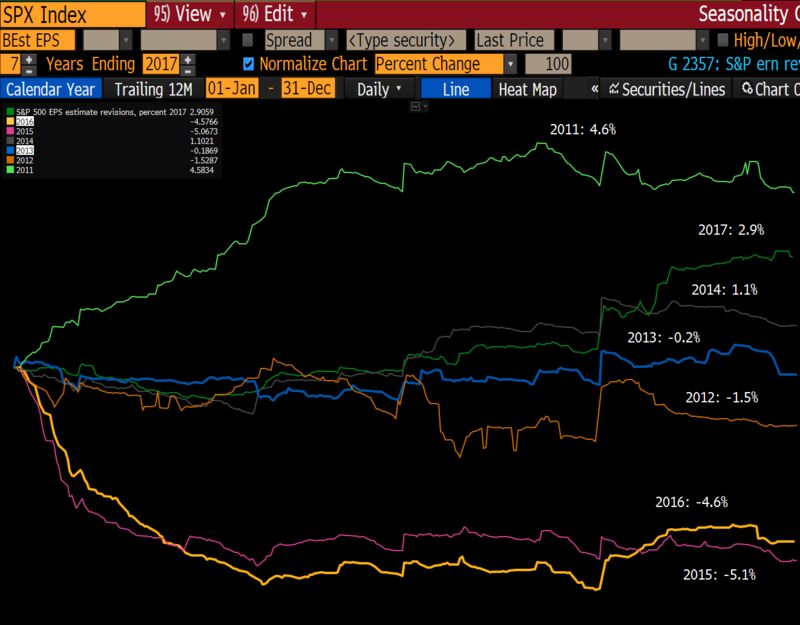 Maybe it was easier than it looked to predict a blowout week for equities. Between the last week of December and the first week in January, the S&P 500 has reversed direction every year since 2011. A possible explanation is the expiration of government policies on Dec. 31.
The pattern played out this week, with the S&P 500 jumping 2.6 percent after a 0.4 drop in the last four days of 2017. The index was up in each of the four sessions, a start matched only twice since 1990. Both times, in 2006 and 2010, the index jumped at least 12 percent for the year.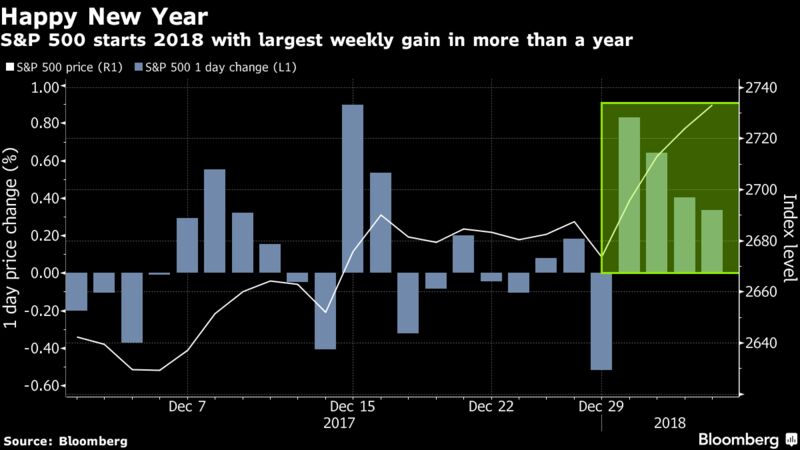 The S&P 500 rose 2.6 percent to 2,743.15, while the Dow Jones climbed 2.3 percent to 25,295.87. Long momentum, a strategy that returned the most since 1999 last year, rose the most in more than two years this week.
"It feels like the late phase of a bull market in which investors are capitulating on their reluctance, and joining the party because they cannot identify any downward catalysts," said Matthew Litfin, portfolio manager of the Columbia Acorn Fund at Columbia Threadneedle Investments. "Instead, investors now see lower corporate taxes ahead, global economic growth accelerating, and valuation on 'post-tax-reform earnings' that is palatable."
Read more: https://www.bloomberg.com/news/articles/2018-01-05/profit-elation-for-the-ages-fuels-best-week-for-stocks-in-a-year