Thorbjorn Olesen and Kevin Kisner set the early pace at four under, with the majority of the big names back in the pack at Quail Hollow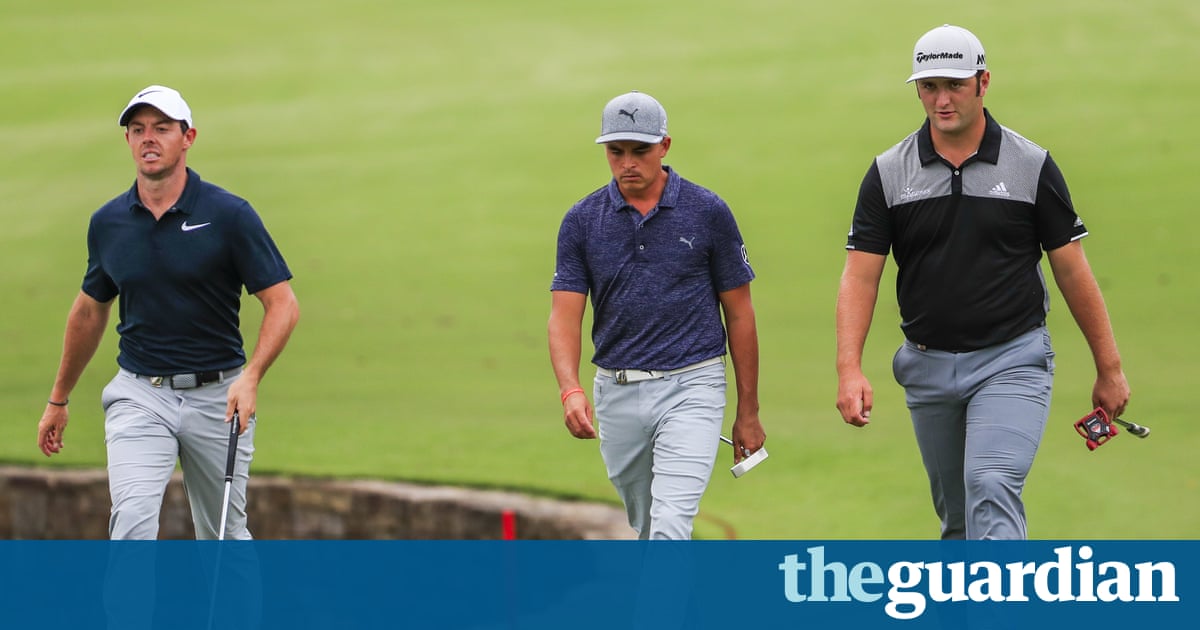 Proof that the 99th US PGA Championship will not be the domain of only two players should not have been necessary. Nonetheless, such a prompt was probably useful. Jordan Spieth and Rory McIlroy, the dynamic duo who dominated pre-tournament discussion, matched opening-round scores.
That the number in question is 72, one-over par, is hardly cause to rule either of them out of lifting the Wanamaker Trophy but it will also offer incentive to others in the field. The early signs are this will be an attritional major.
Denmarks Thorbjorn Olesen, a player with a distinctly average record in the final major of the year, heads proceedings with Kevin Kisner, of the USA, at minus four. Among the big names to hover with intent are Paul Casey and Rickie Fowler, who are two from the lead. The relatively high state of the scoring illustrated another point; that changes as made to Quail Hollow in the past year, particularly on the greens, render this a very different venue to the one McIlroy has enjoyed such success on. These greens are trickier than Augusta National, observed Adam Scott. The 2013 Masters champion did not seem to mean this as a compliment.
McIlroy had been in fine position at two under before a stumble which in many respects epitomised the frustrations of his season. The Northern Irishman found water from the 14th tee en route to a double bogey, with chances to atone for that error passed up on the par five 15th and the last two holes. Fowler, playing alongside McIlroy and Jon Rahm, recovered superbly from a triple-bogey seven at the 5th. Rahm is one under.
Im just disappointed with that [bad] stretch, but Im right in it, said McIlroy. It wasnt very easy. It was tough. The greens were difficult. They got very grainy as the day went on as well. If you just hit a putt a tiny bit off line, it exaggerated it. It was tough to hole putts this afternoon. Hopefully the surfaces are a little better tomorrow morning and we can hopefully hole some more putts. Im only five behind; this is a tough golf course.
Spieth, who formed part of the morning wave, endured a poor day with putter in hand. Yes, it really does happen. Im pretty solid with the lead, he said. So that was kind of the goal, to grab the lead. Its much easier when you are on the front page of the leaderboard than it is coming from behind. Given its the first round I know Im still in it but I know that tomorrows round becomes that much more important to work my way [up] and stay in it. Ive got to make up ground. I cant putt any worse than I did today.
Brooks Koepkas chances at Quail Hollow were always stronger than bizarrely long odds of 251 suggested. Koepka has driving accuracy and distance, which are valuable commodities at this venue. A US Open triumph in June also enhanced the Americans belief in his level of talent which is now reflected by that success. Koepka signed for a 68, after which he highlighted the value of a level head.
We focus in on these majors and thats when youre trying to peak, trying to play your best, he said. Sometimes its a lot simpler than people think. I think people kind of psyche themselves out quite a bit in a major, put too much pressure on themselves. Its the same game Ive been playing for 23, 24 years. All youve got to do is put the ball in the hole and move on.
I think people get quite frustrated sometimes in majors. Ive seen it a lot. Youve just got to stay really patient and realise sometimes bogey is not a bad score out here. Its quite difficult but youve just got to realise that, you know, youre in the first round of a four-round event. So one hole isnt going to kill you.
I try not to make a double-bogey. Thats kind of my goal in a major; if I can keep doing that I dont know the last time I did in a major. It takes one hole to recover from a bogey and it takes two to come back from a double. Youre not going to make many birdies in a major championship, so you need to stay patient.
Tommy Fleetwood appeared at this major having been afforded considerably less spotlight than was the case at the Open, in his hometown of Southport, last month.
Perhaps that lack of attention boosted Fleetwoods mindset; he opened with a 70, the same score as Hideki Matsuyama, Jason Day and Dustin Johnson. Justin Rose, surprisingly, could fare no better than 76, a score matched by Luke Donald. Casey opened with a 69, which placed him alongside Patrick Reed.
Phil Mickelson and Ernie Els hoped for happier starts to their 100th major appearances. Els tumbled to a morning 80 while Mickelson, who remains without a win since the 2013 Open, posted a 79 later in the day.
John Daly rolled back the years, however, when marauding to minus one and a share of seventh. It didnt last and he finished with a seven for a round of 74.
Read more: https://www.theguardian.com/sport/2017/aug/10/rory-mcilroy-jordan-spieth-us-pga-championship