Comics, including Stephen Colbert and Trevor Noah, continued on the many revelations that have emerged from Michael Wolffs explosive White House book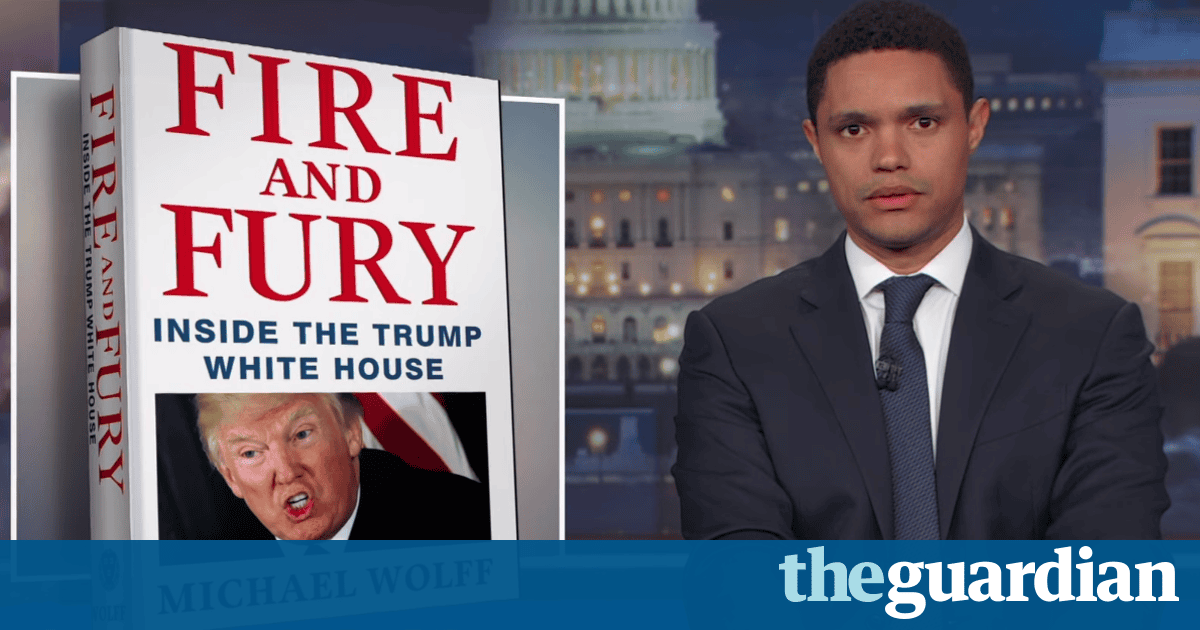 Late-night hosts returned to the discussion of Michael Wolffs White House expos and its many damning revelations.
On The Late Show, Stephen Colbert spoke about how many of Steve Bannons supporters have distanced themselves from him after his input, criticizing both the president and his family. Its been reported that many members of the far right are also following suit. Its true, they are so embarrassed of Steve Bannon that a lot of the alt-right have started covering their faces with hoods, he joked.
The book also claims that the first couple have separate bedrooms, and most nights Trump is in bed by 6.30pm with a cheeseburger. Im gonna hope eating it? Colbert said.
At Thursdays press briefing, Sarah Sanders brought on a special guest in the shape of a video screen with words from Trump, despite the fact that he lives and works mere yards away. The call is coming from inside the house: get outta there! he said.
He continued: Im dizzy from the stupid Isnt it bad enough that we have to watch him on TV? Now we have to watch him on TVs on TV!
On The Daily Show, Trevor Noah also spoke about Wolffs book Fire and Fury. It sounds like the Real Housewives of Pennsylvania Avenue, he said.
Noah then aired a montage of the many people within the presidents administration that have criticized his intelligence. Trumps own people think that hes dumb as a watermelon, he said. I guess the country isnt as divided as it seems.
He also returned to the fact about the president being in bed early with food. Hes in bed by 6.30? he asked. I mean, it makes sense in a way. You need to get your 11 hours in before your 5am rage tweets but still.
Wolff has also claimed that Melania Trump cried after her husband won. Its so crazy to think that both campaigns were crying on election night, he said.
The official response from the White House is that the book is all lurid fabrication. Someone who tweeted check out sex tape cant complain about tabloid gossip, he said. The truth is, Mr President, you made your bed. Now eat your cheeseburger in it.
Jimmy Kimmel also spoke about the book. Its bringing back some of the ghosts of Trumpstmas past, he said.
He then listed all of the many reasons that Trumps lawyers are using to claim that publishing the book is problematic AKA legal terms for Wah wah wah, stop writing mean things about me.
Kimmel also spoke about the strange assertion that Trump uses secret recordings to try to have sex with the wives of his friends. Like Fifty Shades of Orange or something, he said. No wonder his only friends are Fox & Friends.
But the host was most surprised by Wolffs section about how he got all of this information: by gaining official access. Why did these idiots let him into the White House in the first place? That alone indicated poor decision-making.
Kimmel also believes that the legal attempts by Trump to block the book have had an adverse effect. I wasnt going to buy the book, he said. I was just going to read the excerpts in magazines and move on but now that Trumps lawyers are going all-out to try and stop it from being published, Im buying 20 copies.
Read more: https://www.theguardian.com/culture/2018/jan/05/late-night-tv-hosts-trump-dumb-watermelon