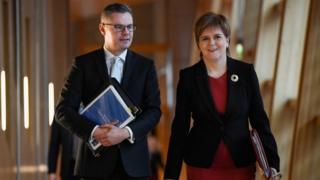 The Scottish government has announced income tax changes that will see higher earners pay more than elsewhere in the UK – and lower earners pay less.
The country's finance secretary, Derek Mackay, announced a new tax band of 21p for those earning more than £24,000.
The higher rate of tax will be increased from 40p to 41p and the top rate from 45p to 46p.
But a starter rate of 19p in the pound will also be introduced, Mr Mackay confirmed in his draft budget.
Mr Mackay said the move will mean no one earning less than £33,000 in Scotland will pay more tax.
And he told the Scottish Parliament that those earning above that figure would only pay a "proportionate amount more" than they currently do.
Mr Mackay also outlined a 3% pay rise for public sector workers earning less than £30,000, and a 2% rise for those earning more than that.
And he pledged a further £600m to provide superfast broadband to all premises in Scotland by 2021.
Scottish Budget
New Income Tax rates
21p
New intermediate tax rate from £24,001 to £44,273
19p Starter rate from £11,850 to £13,850

20p Basic rate from £13,851 to £24,000

41p Higher rate from £44,274 to £150,000

46p Additional rate from £150,000
The Scottish government was given powers over income tax rates and bands last year, with the new rates being paid by anyone who lives in Scotland.
Mr Mackay had faced warnings from business leaders and the Scottish Conservatives ahead of his budget statement that Scotland could not afford to be associated with higher taxation than the rest of the UK.
But others – including Scottish Labour and the Scottish Greens – had urged Mr Mackay to go further.
Mr Mackay said that more than two thirds of income taxpayers will pay less tax than they currently do under his proposals, which will need to be approved by MSPs before coming into force from April 2018.
And he said 55% of taxpayers in Scotland will pay marginally less next year than they would in the rest of the UK.
'More progressive'
The finance secretary insisted the changes – which he said would raise an additional £164m – were necessary to "mitigate UK budget cuts, protect our NHS and other public services, support our economy and tackle inequality in our society."
He said the tax reforms would make "Scotland's income tax system even fairer and more progressive".
And he said a bigger increase in the top rate of tax for those earning more than £150,000 – which some opposition parties had called for – would actually reduce revenue as high earners would find ways to avoid paying it.
What else did Mr Mackay announce?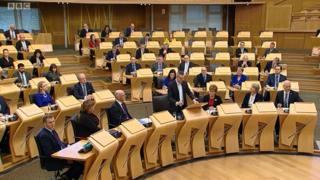 Among the other measures in the budget were:
Full relief from LBTT – the Scottish equivalent of stamp duty – on up to £175,000 for first time home buyers
Funding to reduce the attainment gap in Scottish schools increased from £120m to £179m
An increase in health funding of more than £400m – double the amount needed for NHS spending to keep pace with inflation.
Local government resource budget will be protected in cash terms with the capital budget increased in real terms "resulting in a total increase in local authority core funding of £94m
Read our at-a-glance guide to the key points from the budget here
What is the outlook for the Scottish economy?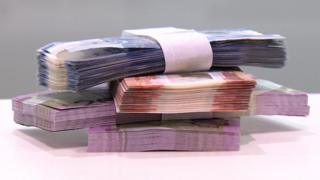 Mr Mackay's budget statement was accompanied by the first economic estimates from the new Scottish Fiscal Commission, which said the country is is facing "subdued" growth over the next five years.
The independent body predicted the Scottish economy will grow at less than 1% per year until 2022 – lower than that predicted by other economists.
Its five-year forecast suggests GDP growth will be 0.7% in both 2017 and 2018, rising to 1.1% in 2022.
It said the outlook was "driven by slow productivity growth and exacerbated by demographic challenges".
What has the reaction to the budget been?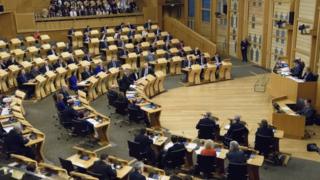 Scottish Conservative finance spokesman Murdo Fraser branded the creation of a new basic rate the "Nat tax".
He accused the SNP of breaking a 2016 manifesto promise pledging not to increase the basic rate of income tax for those on low or middle incomes, and called on Mr Mackay to apologise, adding "no one will believe a word they say ever again".
Mr Fraser said there was "no justification" for the tax rises being imposed on middle and high earners, and claimed the real reason was that Scottish economic growth is lagging behind the UK.
Scottish Labour leader Richard Leonard said the Scottish government's tax and spending plans had "tinkered round the edges" instead of implementing radical change and delivering a genuine alternative to "Tory austerity".
He argued that "a penny on the top rate just does not do it," and accused Mr Mackay of producing a "Tory-lite draft budget".
Scottish Greens co-convener Patrick Harvie said he was "delighted that the argument for a more progressive tax structure appears to have won the day", but said Mr Mackay should have gone further.
And Scottish Liberal Democrat leader Willie Rennie said the budget was a "missed opportunity" and "does not do enough to meet the long term needs in the economy".
Follow live reaction to the budget on Holyrood Live
What happens next?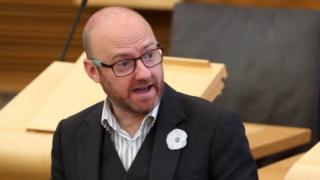 The minority SNP government will need to secure the support of at least one other party in order to eventually pass its budget, with the final vote due to be held on 19 February.
A deal with the Tories or Labour seems somewhat unlikely, which leaves the Scottish Greens and Liberal Democrats as potential suitors – with the Greens the most likely.
It was the pro-independence Greens who rode to Mr Mackay's rescue last year, with a budget deal finally being struck in February after nearly two months of negotiations.
At the time, Scottish Greens co-convenor Patrick Harvie hailed it as the "the biggest budget compromise in the history of devolution in Scotland".
It is likely he would be looking for concessions on a similar – or even greater – scale this time.