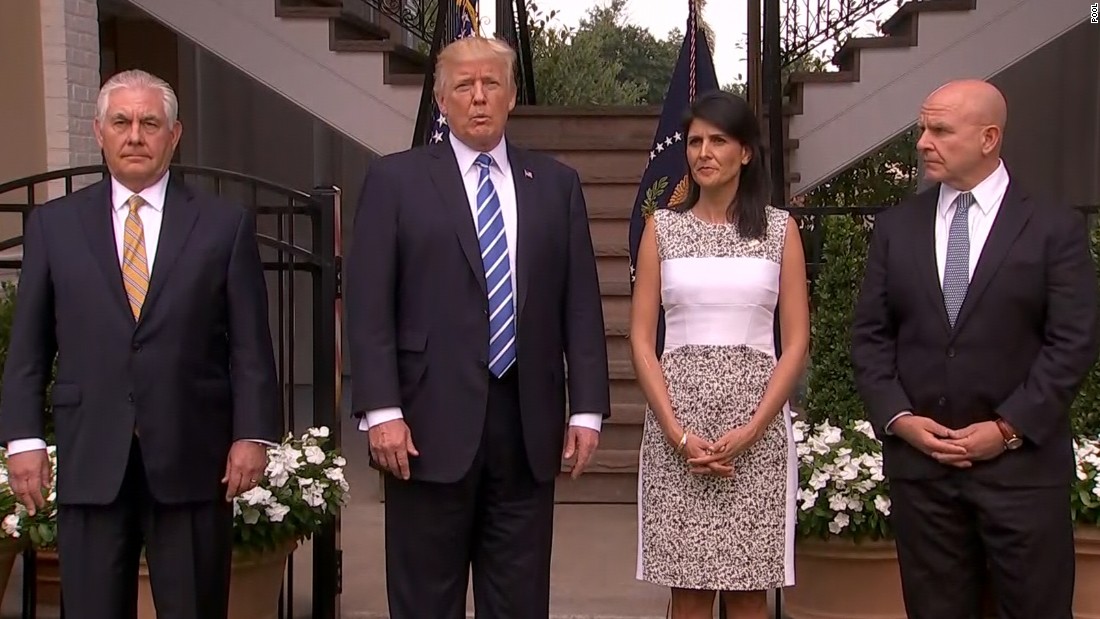 (CNN)US President Donald Trump said Friday he would not rule out the possibility of a military intervention in Venezuela. He has accused the regime of being led by a dictator.
Asked about the possibility of a military intervention in response to the months-long crisis in the country, the President said that is something the United States "certainly could pursue."
"We have many options for Venezuela. And by the way, I am not going to rule out a military option," Trump said. "We have many options for Venezuela."
"This is our neighbor," he added. "You know, we are all over the world and we have troops all over the world in places that are very, very far away. Venezuela is not very far away and the people are suffering, and they are dying. We have many options for Venezuela, including a possible military option if necessary."
Venezuelan Defense Minister Vladimir Padrino called Trump's talk of possible military action a "crazy act."
"As Minister of Defense and as a citizen I say this is a crazy act, an act of supreme extremism," Padrino said via phone on state-owned television network VTV.
"There is an extremist elite in the US government," he added, "and I really don't know what is happening and what will happen in the world. If humanity will end. If planet Earth will end."
New sanctions
The Trump administration slapped sanctions on Venezuela after a July 30 vote that allowed Maduro to replace the opposition-dominated National Assembly with a new 545-member Constituent Assembly filled with his supporters.
Protests have rocked the streets of Caracas and other Venezuelan cities, both before the vote and in response to the recent political moves.
More than 120 people have died in protest-linked incidents since April.
The United Nations' human rights office said earlier this month that Venezuelan security forces have used excessive force and arbitrarily detained thousands of people.
"The United States condemns the actions of the Maduro dictatorship. Mr. Lopez and Mr. Ledezma are political prisoners being held illegally by the regime," Trump said in a statement earlier this month, referencing Leopoldo Lopez and Antonio Ledezma, two of Maduro's top political opponents.
While Trump raised the specter of military intervention, his top national security aides have downplayed that possibility.
H.R. McMaster, Trump's National Security Adviser, flatly told MSNBC earlier this month that military intervention from any outside source was not a possibility.
"No. I don't think so," McMaster said. "What's really required is for everyone to have one voice about the need to protect the rights and the safety of the Venezuelan people."
Trump's comments came after a meeting at his New Jersey golf club with US Ambassador to the United Nations Nikki Haley and Secretary of State Rex Tillerson.
One outspoken Democratic congressman denounced Trump's comments
"Military force must be the last option, not the first. Provocative statements by @realDonaldTrump on North Korea and Venezuela are reckless," said Rep. Ted Lieu.
Venezuelan response
Venezuelan Information Minister Ernesto Villegas tweeted Friday evening that Venezuela's diplomatic body has been summoned to the Foreign Relations Ministry on Saturday, where they are expected to issue a statement in response to the "imperial threat" to their country.
This statement will be the official response from Maduro's government to Trump's comments .
Villegas tweeted earlier Friday: "Trump's threats unite all Venezuelan's to reject the interference and defend their country."
The White House said late Friday that Maduro requested a phone call with Trump. "President Trump will gladly speak with the leader of Venezuela as soon as democracy is restored in that country," the White House responded in a statement.
Critics think Venezuela's new legislative body, the Constituent Assembly, will rewrite the Constitution at Maduro's behest.
Read more: http://www.cnn.com/2017/08/11/politics/us-venezuela-trump-military-options/index.html